Ten Craves is our online series that rounds up all the best product launches and must-know fashion happenings week in, week out. 
Snuggle up with a blanket, a cup of something hot, and the latest fashion news below.
Alaïa does swimwear
Off the back of his critically-acclaimed debut, Pieter Mulier presents his debut swimwear collection for Alaïa. Launched into stores globally, the collection is informed by the key elements which make up the house's design vocabulary, designed to be both sexy and equipped for a proper swim. Shop here. Paul Toner
Go skiing with Dior
Get ready for the snow because Dior is taking us skiing in the mountains. Created as part of Kim Jones' ongoing collaboration with British Peter Doig, Dior's winter capsule collection fuses art, fashion, and technicality. Made with winter sports in mind, all of the silhouettes in the collection have been crafted to give all snow-lovers a unique experience, no matter where they go. The Men's Ski Capsule collection includes helmets, ski masks, and laser engraved snowboards. The pièce de résistance? A sled fitted with contemporary curves that is sure to take your winter get-away to a whole new level. Shop here. Andrea Sacal
Photography courtesy of Dior
Chloé celebrates 75 years of UNICEF
Chloé and UNICEF are celebrating the charity's 75th anniversary with an exclusive capsule collection. Crafted from recycled materials, the collection consists of a white T-shirt and sweatshirt featuring the UNICEF logo and co-branded tags. One hundred percent of the proceeds will be donated to the Girls Forward Initiative founded by Chloé in 2019, which supports UNICEF's gender equality program. Shop here. AS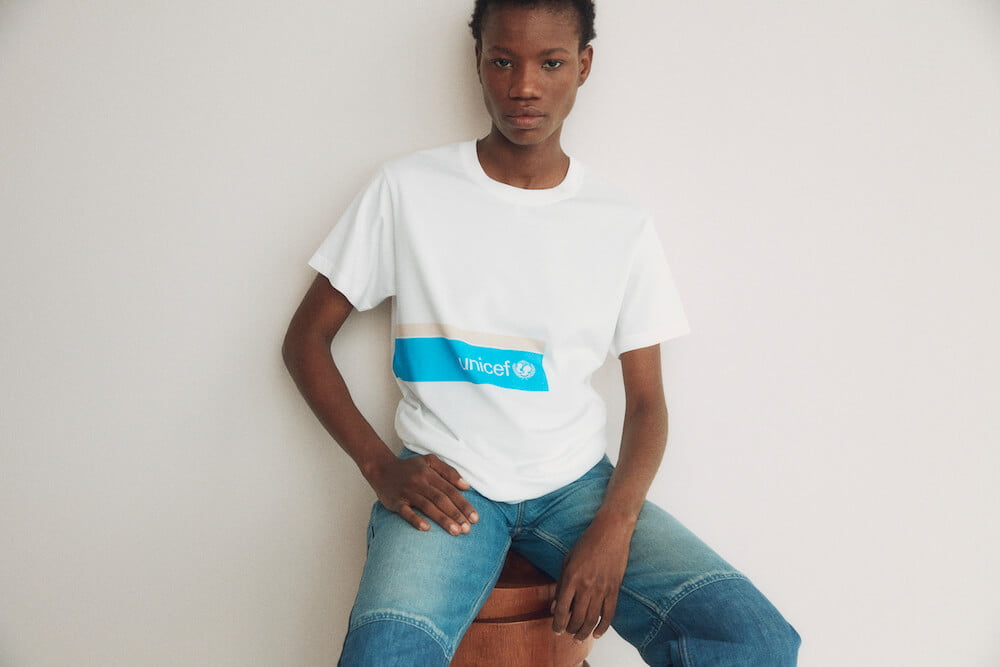 Photography courtesy of Chloé
Max Allen presents Gay Men's Sexy Undies Part 2
East London's finest Max Allen has debuted a brand new collection he likes to call Gay Men's Sexy Undies, Part 2 – A Max Allen Night's Dream. Working on these pieces for the past year or so, the collection mixes textile costumes and clubwear. "Working together with Dexter Lander and Jayson Hindley, we used these costumes and garments to create loose ideas of characters and situations that might be found in a retelling of a Shakespearean style play told through my voice," explains Allen, who presented the collection in a two-day exhibition at Ridley Road Project Space. "In the looks and garments, there are lots of references to queer culture, showbiz, and lots of motifs and colors and patterns I found inside my bedroom and studio, remixed and re-styled onto bodies of performers I have worked within gay clubs over the years." PT
Photography by Dexter Lander
Rue-L presents new short film and collection pieces
London-based label Rue-L breaks boundaries left and right. Since its inception, Rue-L's founders, Celine Kreis and Suman Gurung have merged the spirit of the street with sporty aesthetics into their designs. Now, the design duo presents I SPY, the short film showcasing Rue-L girls followed throughout their day around London. To accompany the short film, the label has introduced a capsule collection filled with essential pieces made for anyone and everyone. Shop here. AS
Lacoste launches its tennis-filled archive gallery
Legendary sportswear brand Lacoste is no stranger to making history. Since its inception in 1933, the label's crocodile logo has been seen on tennis courts and golf fields far and wide. Now, Lacoste is unveiling its very own archive gallery. The gallery features 46 artworks and will all be available for purchase. All profits made will be donated to the Lacoste Foundation's partner associations, which support projects in disadvantaged communities across education, environment, and health. Purchase here. AS
Photography courtesy of Lacoste
C.P. celebrates 50 years with a joint collection with Emporio Armani
Rounding off its 50th-anniversary celebrations is C.P. Company, which has created a joint collection with Emporio Armani. The collection unites the codes of each brand under one vision, merging classic Emporio bomber jackets and raincoats with C.P.'s infamous goggles. The collaboration also features a range of T-shirts that merge both brands' logos. Shop here. PT
Photography courtesy of C.P. Company
Charles Jeffrey Loverboy and Fred Perry go for a second round
Swiftly following their debut team-up back in September, Fred Perry unleashes its second of three capsule collections with Charles Jeffrey Loverboy. Debuted as part of Jeffrey's SS22 collection, the capsule looks to the music scene in the UK through the mid-2000s, where indie rock met hedonistic electronic pop. Highlight pieces include glittery T-shirts, knitted polos, and primary-colored bomber jackets. Shop here. PT
Top image courtesy of Alaïa.